Lets be honest, this is a hard question to answer! There are so many variables like budget (are you saving for it yourselves), location (Sydney vendors V Bourke vendors booking times), are you in a hurry (things like pregnancy or favourite season) these all play into how soon/far away a couple plan there wedding so all the information below is based on an average wedding in the South Coast NSW timeline.
A minimum of 12months is the short answer (though a celebrant requires a min of 6wks legally).
Once your engaged start looking at venues and/ or any area you consider a MAJOR part of your wedding. If you already know a vendor say photographer you wish to use speak to them, find out how open there books are – this may be your determining factor of how far in advance to get your preferred season/month or vendor.
Venues are usually the first item couples book, once this is done you can start working on everyone else.

Extenuating Circumstances, like covid-19 postponing most 2020 weddings, will mean vendors may be booked out further in advance.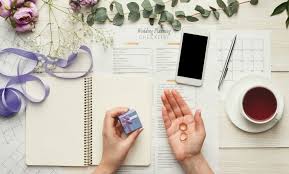 Choose a date (for flexibility 2-3 or even a particular month)
Discuss your budget (are parents assisting with this)

Choose your wedding party
Best Man
Grooms Men
Made of Honour
Brides Maids
Jnr Brides Maid
Jnr Grooms Men
Flower Girl
Page Boy

Write a shortlist of venues (Ceremony and Reception)

Start exploring and getting 2/3 quotes for your required professionals
Wedding Planner
Celebrant
Florist
Stylist
DJ
MC
Photographer
Videographer
Caterer
Cake Maker
Photobooth
Band/Soloist
Other Entertainment – Magician etc
Book your Ceremony Venue/Location
Book your Reception Venue
Book your wedding professionals


Wedding Planner
Celebrant
Florist
Stylist
DJ
MC
Photographer
Videographer
Caterer
Cake Maker
Photobooth
Band/Soloist
Other Entertainment – Magician etc
Hair
Make- up Artist

Order and post your Save the Dates (if applicable)

Layby or purchase your Wedding Dress (doing this early will allow time for any alterations)
Start deciding on your grooms mens attire (Layby/book where applicable)
Start deciding on your Bridal Party attire (Layby/Book where applicable)
Talk to local accommodation venues regarding a discount/offer (for out of town guests)
Start looking into wedding invitations
Explore your hair and Make-up options
Plan your guests list (remember venue limits and your budget)
Start your gift registry (check out retailers who do this and start deciding)
Start your honeymoon plans
Wedding Rings (Buy or Layby)
Purchase your Wedding Invitations
Start looking at bomboniere/Thank you gifts (order if need be)
Book your First Night Accommodation (Local to your reception is best)
Book your Honeymoon
Post your Wedding Invitations
Start Planning out your seating plan
Create your Wedding Day Timeline

Decide on your special somethings
Borrowed
Blue
Old
New
Follow up on guests who have not yet RSVPed
Confirm your seating Arrangement Plans

Send out your Wedding Day Timeline
Brides Maids
Grooms Men
Ceremony Venue (if needed)
Reception Venue
Celebrant
Stylist
Master of Ceremonies (MC)
DJ

Confirm all your Honeymoon Details
Prepare your "thank you" cards (give to a friend to post out after your wedding)
Delegate whos assisting with wedding duties (where needed)
Place Settings
Centre Pieces
Ceremony Decorations
Who will collect gifts (inc wishing well after reception)
Who's returning hired suits/dress
Whos cleaning up DIY venue
Trim and add any colour to your hair
Begin breaking in new Wedding Shoes
Make any final payments for your professionals
Make any final payments for Honeymoon

Prepare a Wedding Day Emergency Kit
(things like )
Baby Wipes
Lipstick
Extra Make – up
Sewing Cotton
Sewing Needle
Bandaids
Tissues
Enjoy a good breakfast
Relax
Enjoy yourself
Smile you've made it